Royal kingdoms world over and the royalties that preside over these kingdoms are seen and considered sacred to mere mortals who are always i
Royal kingdoms
world over and the royalties that preside over these kingdoms are seen and considered sacred to mere mortals who are always in reverence and in awe of royal kingdoms because of the supposed powers the kings possess.
It therefore comes as a rude shock to many when scandals get associated with the royal institution which sometimes diminishes the sanctity and reverence that is supposed to be accorded it. And Nigeria is no different. Our monarchs, particularly from the Western part of the country have had their own fair share of scandals, ranging from the serious to the mundane.
But for the purpose of this article, the focus will be on three revered monarchs, their queens and the marital scandals that has rocked their royal kingdom.
Zaynab Otiti Obanor: Unknown to many, Edo State born Zaynab, formerly known as Olori Wuraola Ogunwusi, a name she adopted after her marriage to the Ooni of Ife, Oba Adeyeye Enitan Ogunwusi, used to be married. As at the time she met the Ooni, she was divorced. While there is nothing wrong with being divorced or a divorcee remarrying, it is however expected that whoever occupies the Ooni of Ife stool, must marry a 'virgin' or at least someone who has never been married before. With the virgin condition, times are fast changing and it may no longer be a necessary requirement but with regards to having been married before, that is not acceptable.
The Ooni went ahead with the union which he didn't attend personally in Benin City, in March of 2016. This was a little over a year after Zaynab ended things with her Lebanese partner. Unfortunately, her own marriage to the Ooni only lasted for 16 months. Infact the union collapsed in less than six months but to save face and put up a united front, they remained together until Zaynab moved out of the palace in July pf 2017 while their divorce got finalized in August of 2017.
Quite a number of reasons have been given for why the union lasted that short. From allegations of infidelity made against Zaynab, to the Ooni getting reports about her past which only came to the fore after their publicized wedding, to the Ooni's sisters making the palace a living hell for Zaynab. Unable to stomach it all in, she had no choice but to leave for her sanity. The marriage didn't produce any child.
Despite the fact that she is no longer a queen, Zaynab still tries to parade herself as one with her manner of dressing which is mostly in white flowing gowns with her head always covered. She also still refers to herself as a queen and 'Her Highness.' But if there is one good thing that has remained with her even after leaving the Ile Ife palace, it is her heart of gold which she activated while she was a queen. Outside of the palace, she now helps the underprivileged through her Queen Zaynab Foundation.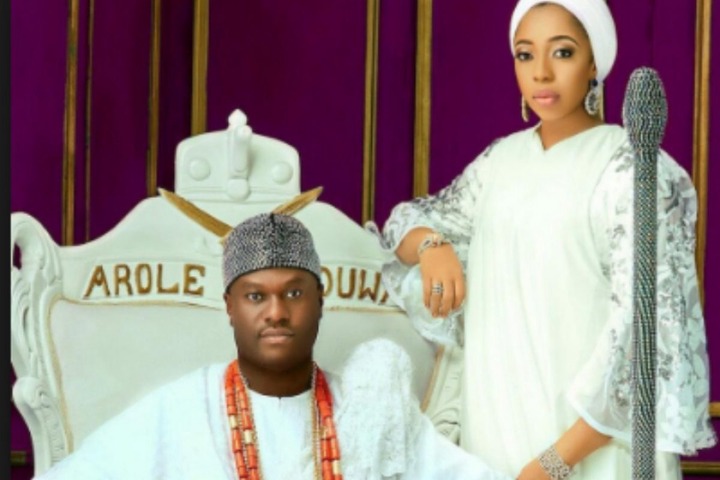 Queen Badirat Ajoke Adeyemi: She only became popular on account of her union with the Alaafin of Oyo, Oba Lamidi Adeyemi whom she married while she was still in school. While she isn't the only queen in the palace, the 30-year-old queen is the most visible and most outgoing of all the other Alaafin queens, both old and young. She hasn't allowed the quietness and routines of the palace slow her down or prevent her from leveraging on the opportunity being a young queen provides.
The mother of twin boys who likes to refer to herself as a social media influencer, recently made headlines with rumours of an affair between her and the Maiyegun of Yoruba land and Fuji musician, King Wasiu Ayinde Marshal. Both denied the rumour. While KWAM 1 threatened to take legal actions against the source of the rumour, Queen Ajoke took to spitting curses on herself to prove her innocence and faithfulness to her 82-year-old husband.
A few weeks ago, she tried to silence naysayers when she posted a photograph of herself and the King in a tête-à-tête. So there is every likelihood that the marriage survived the storm. Besides being a queen, Queen Ajoke runs a logistics outfit, an online fashion boutique and a self-named foundation, Queen Ajoke Adeyemi Foundation.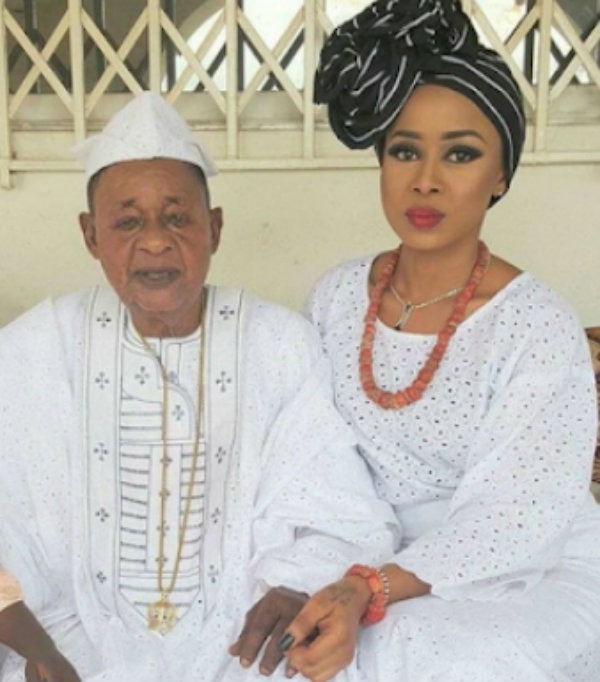 Chanel Chin: Even though she is Jamaican, the Oluwo of Iwo, Oba Abdulrasheed Akanbi was so in love he was past caring about any traditional disapproval. He married her and made her his queen shortly after they were both introduced to each other at his coronation party in Lagos, thus abandoning the one he was supposed to marry. While they union lasted, he referred to her as Olori Jumoke Akanbi.
She indeed carried out her role graciously, well, until things went awry and the marriage crumbled like a stack of badly arranged cards. This no doubt surprised many, as during their four-year-old marriage which ended in 2019, the Oluwo of Iwo tried to show the world how smitten he was to her to the admiration of many. But unknown to many, the union was built on falsehood.
While the Oluwo claimed that Chanel cheated on him, Chanel insisted that it was the Oluwo himself who was a serial cheat. During their union, she didn't know that he had other wives until much later. Not only does the Oluwo have six wives of which she is number four, Chanel's son, Oduduwa whom she renamed Ade, is the Oluwo's 10th child. She also accused him of gagging her during the period they were married as well as suffering from multiple personality disorder.
One only wonders if marital scandals in royal enclaves in the South West is a norm.