New Kim, a two-year-old racing pigeon from Belgium has recently been crowned the world's most expensive pigeon after a South African collector bid a
Hok Van De Wouwer, a renowned pigeon breeder in Antwerp, Belgium has recently put its entire collection of racing pigeons on sale this month. Father and son duo Gaston and Kurt Van De Wouwer have an enviable resume among pigeon breeders, winning numerous national ace pigeon titles and 1st place at nationals, so it's no wonder that their birds are sought after in the still ongoing online auction. But even so, no one expected the star of the show, a two year-old female named New Kim, to break the world record for most expensive pigeon.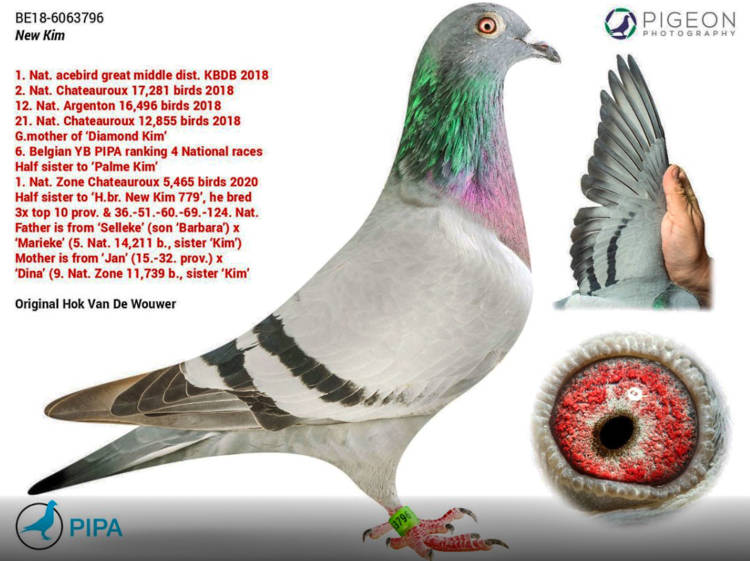 In just one and a half hours after the auction went live on the Pipa Piegon Paradise website last Monday, New Kim already had 226 bids, with the highest one topping 1.3 million euros. The price hasn't budged since, but with four days left to go, it's already the most expensive pigeon ever, surpassing the record set by another Belgian specimen named Armando, for which a Chinese collector paid 1,252,000 euros in 2019.
The auction officially ends on November 15, so a new bid could still exceed the record bid of the South African, although it is unlikely. There is a small chance that the bid could be retracted, but the organizer requires a deposit of 20% of the total bid sum, when it exceeds 500,000 euros, so in this case Samuel Lofts would lose 300,000 euros.
New Kim's record in races is nothing short of exceptional, and it has an impressive pedigree, but experts say that buyers – in this case a South African collector – pay such outrageous prices for special specimens not to use them in races, but  for breeding. After all, the risk of losing the bird during competitions, is much too great, and selling the bird's offspring is much more profitable.
Because of the exceptionally high bid, New Kim is reportedly being guarded by a security company, to ensure that nothing happens until it enters the possession of its new owner.