There is no denying that there is a strong bond between Pastor Enoch Adejare Adeboye and Bishop David Olaniyi Oyedepo, the two leaders of the larg
There is no denying that there is a strong bond between Pastor Enoch Adejare Adeboye and Bishop David Olaniyi Oyedepo, the two leaders of the largest church congregations in Nigeria, Redeemed Christian Church of God and
Living Faith Church Worldwide
, otherwise known as Winners Chapel. Their father/son bond has stood the test of time. At every given opportunity, the Bishop never ceases to address Pastor Adeboye as his spiritual father. Likewise, Pastor Adeboye who also never ceases to express how proud he is of Bishop Oyedepo with his work in ministry, whenever the opportunity presents itself. Despite attempts to put them at logger heads with unnecessary comparisons, the duo have continued to forge on with their special bond proving to naysayers that not only are they not in competition, theirs is an unbreakable bond.
Here are five times Pastor Adeboye proved that he is indeed the dependable spiritual father that he is, to Bishop Oyedepo.
1.  During Pastor Mrs Faith Oyedepo's illness: All through the period the health of Mrs Faith Oyedepo, the matriarch of the Living Faith Church Worldwide was under heavy attack, the Adeboyes were always on hand to offer succor and prayers to the Oyedepos physically or via the telephone regularly. Just before Mrs Faith was flown out of the country for further medical checkups, one early morning, Pastor Mrs Folu Adeboye on the instructions of her husband, Pastor Adeboye, drove to the home of the Oyedepos unannounced. She came with a bowl of delicious soup she prepared herself, to spend time with Mrs Oyedepo, pray with her and hand over a blessed mantle from Pastor Adeboye to use as a point of contact for her complete delivery.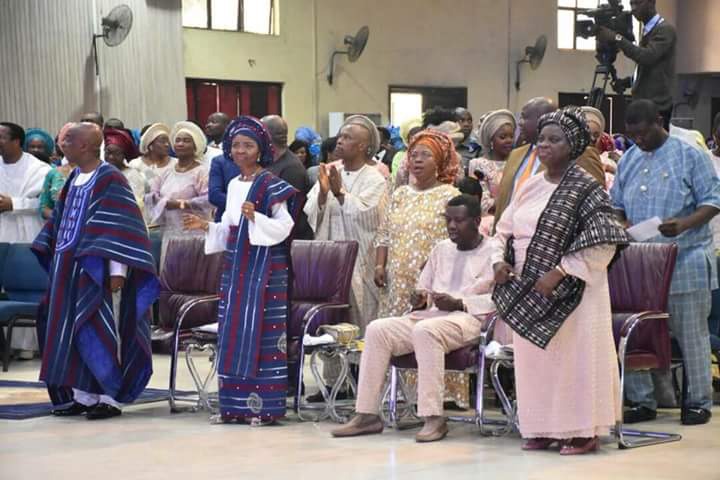 The Adeboyes and Oyedepos at Pastor Mrs Faith Oyedepo's 60th birthday thanksgiving service
2.  Just before a plane crash was averted: Bishop Oyedepo has in the course of his 65 years on earth escaped death countless times and one of such episodes was God delivering him from a near air mishap for the third time. On the morning before himself, his wife, and some key members of the ministry were to embark on a journey to Israel, 6.30am to be precise, Pastor Adeboye had arrived Bishop Oyedepo's house unannounced, no telephone calls. He said he was led to come pray for him. He came without Mrs Adeboye as according to him, the need to see the Bishop was urgent. And God did answer his prayers as despite engine failure midair, the plane the Bishop and his entourage were travelling in, miraculously landed and they all disembarked without any scratch.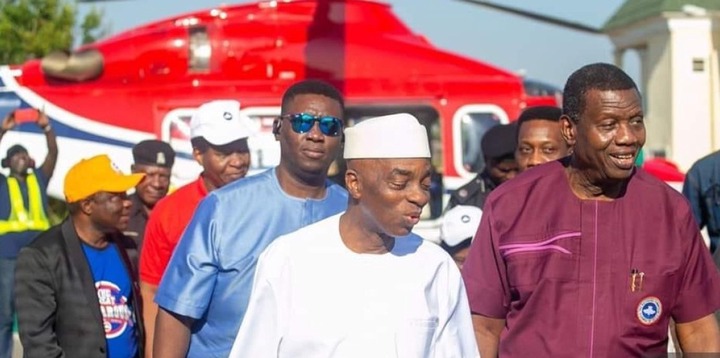 Pastor Adeboye, Bishop Oyedepo, Pastor Leke Adeboye and other pastors
3.  During the visa saga: Barely 24 hours after a daily newspaper reported that Bishop Oyedepo was denied visa at the US embassy and proceeded to throw tantrums, a story that turned out to be false as the US embassy refuted claims that the revered Bishop was denied visa, Pastor Adeboye thought it necessary to visit the Bishop at the headquarters of Winners Chapel, Canaan land, Ota, Ogun State, in a show of solidarity. Perhaps due to the aspersions cast on the person of the Bishop by myopic individuals over the false story, Pastor Adeboye felt the need to offer the Bishop a shoulder to lean on.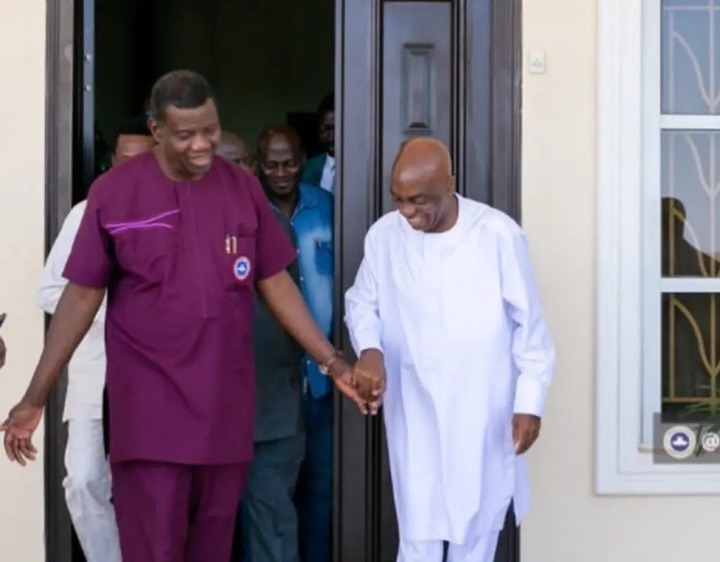 Pastor Adeboye on a visit to Bishop Oyedepo during the visa saga
4.  When Covenant University was still a mustard seed: In the year 2000, a few months after the Faith Tabernacle was commissioned, preparations for the take-off of Covenant University began in earnest. While the commission was still waiting for an approval from the National University Commission, NUC, the Bishop and his team were already gearing to go off. Which is why seven months after the approval was gotten, university buildings such as lecture theatres, halls of residences etc. were already built to accommodate the 1,500 students who were to resume. But before all of this, Pastor Adeboye took time out of his busy schedule to go to Canaanland and the Bishop took him round the site where the University is located today, before construction work began on it. In his characteristic manner, Pastor Adeboye offered thanks to God for the vision as well as prayers while proclaiming prophetic blessings for what is to come.

Pastor Adeboye, Bishop Oyedepo and other pastors at the site of Covenant University before construction began
5. Ordination into full time ministry: In 1983 when the Bishop was about to go into full time ministry, God according to the Bishop, asked him to send for Pastor Adeboye whom He had appointed to conduct the laying on of hands on him. Prior to this time, the Bishop and the Pastor had never met face to face but in obedience, the Bishop sent an invitation to him. Pastor Adeboye however replied that he had other commitments on the said day in Port Harcourt. But God assured the Bishop that Pastor Adeboye would come, prompting him he write another letter to Pastor Adeboye. But before his letter got to him, Pastor Adeboye had been ministered to, to ensure he goes to Kaduna, venue of the ceremony. Thus, Pastor Adeboye attended the commissioning of Living Faith Church and ordained Oyedepo, Pastor. It was the first time they would both be meeting and that meeting marked the beginning of an enduring father/son relationship.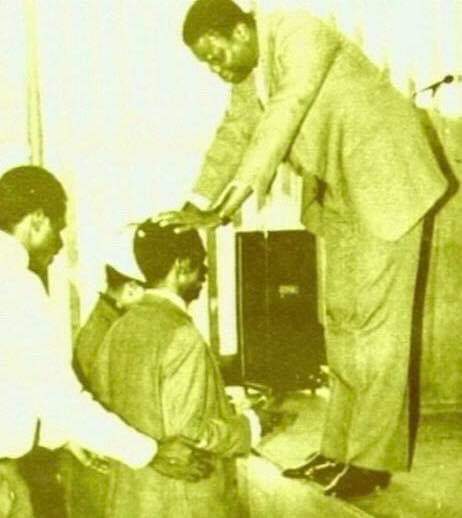 Pastor Adeboye commissioning Bishop Oyedepo into full time ministry